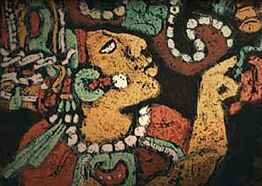 Maya Sun God Icon.
AHAU
Kin 120: Yellow Electric Sun
I activate in order to enlighten
Bonding life
I seal the matrix of universal fire
With the electric tone of service
I am guided by the power of flowering
I am a polar kin
I establish the yellow galactic spectrum.
Today - and Day 7 of every Moon - begins the 16-Day Warrior's Cube Journey. The telepathic registrations of a superior reality meditate you from all directions simultaneously.*
Star Traveler's 13 Moon Almanac of Synchronicity. Galactic Research Institute, Law of Time Press, Ashland, Oregon, 2015-2016.
The Sacred Tzolk'in
Anahata Chakra (Silio Plasma)